You can just come along to this class anytime, there is no need to book it.
---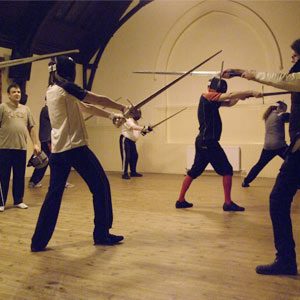 Tuesdays, 7.30 – 10.00 pm
Greyfriars Charteris Centre Upper Hall
Cost
£8 – active / honorary members and newcomers
£10 – visitor members
Instructors
Jack Fraser
Martin Page
Contact Email
instructors@dawnduellists.co.uk (please mark 'German Longsword')

---
Introduction
Evolved during Germany's violent Middle Ages, the system focuses on attacking first and blitzing your opponent with a barrage of simple yet elegant techniques. Probably the best documented medieval martial art, German Longsword is applicable to all European swords used in two hands, including longsword (aka 'bastard sword'), greatsword, claidheamh mòr/claymore and two handed sword.
We welcome any level from absolute beginner to veteran. The classes roll through the syllabus continuously throughout the year, so you can drop in and out without losing track. But, if you want to get good, you'll need to come regularly…
Each session is self contained and includes a 30 min free play slot for more experienced students.
Equipment
For new students, a pair of gloves and loose clothing suitable for physical exercise with footwear such as trainers, is the minimum you will need. There will be some spare equipment to lend out but please do bring what suitable equipment you may have.
Safety
For obvious safety reasons all swords MUST be completely blunt, free from rust and burrs and made from materials suitable for the purpose. Sports fencing weapons and wooden or plastic wasters are not suitable. If in doubt about the suitability of your weapon, please consult an instructor.
FIE level 2 (1600N) fencing mask
A heavy gauge fencing mask is necessary.
Padded gloves
A pair of padded gloves such as specialised fencing gloves. Gloves for sports such as cricket, lacrosse or ice hockey will also do, so long as the fingers and wrist are fully covered.
Heavy fencing jacket
A heavy leather plastron, padded fencing jack or gambeson.
Chest protection
A plastic chest protector which goes under the jacket or a plastron are ideal.
Box
Advisable for gentlemen fencers but lady fencers may also find it beneficial during sparring to wear one.
Longsword
A two-handed longsword which is still light enough to be wielded one-handed is most suitable.
Additional protection
For free-fencing or sparring, it is best to have arm and leg protection – sports protectors or riot gear for limbs and joints are ideal. Neck protection such as a gorget may also be desirable.